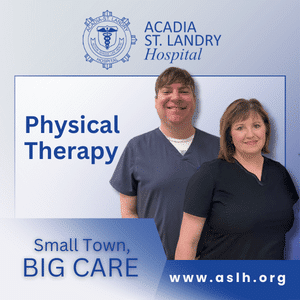 In celebration of National Physical Therapy Month, Acadia St. Landry Hospital celebrates the contributions of our Physical Therapy Department. Throughout the month of October, the hospital is highlighting the care, dedication, and expertise of the department's professionals.
The Physical Therapy Department stands as a cornerstone in Acadia St. Landry Hospital's comprehensive patient care. Under the guidance of Jeff Menard, Physical Therapist, and with the support of Malinda Thibodeaux, the team consistently embodies excellence in rehabilitative services.
With expertise in various specialties, the department provides personalized care for patients of all ages. From orthopedic rehabilitation to neurologic interventions, the team's compassion and knowledge ensures that patients receive the highest standard of care.
"National Physical Therapy Month is an opportunity for us to shine a spotlight on the incredible work of our Physical Therapy Department," said Michael LeJeune, CEO of Acadia St. Landry Hospital. "Their dedication to helping patients achieve their optimal level of health and well-being is truly exceptional. We are proud of the positive impact they make on our community every day."
The department's philosophy is a patient-centered approach to rehabilitation. Forming a rapport with not only the patient but also their support system. This approach empowers individuals and families to take an active role in their recovery, fostering long-term success and well-being.
Acadia St. Landry Hospital encourages the community to join in celebrating the staff of its Physical Therapy Department for National Physical Therapy Month. The hospital extends its gratitude to the entire team for their commitment to enhancing the lives of their patients.
For more information and updates regarding Acadia St. Landry Hospital and its Physical Therapy Department, please follow us on Facebook.