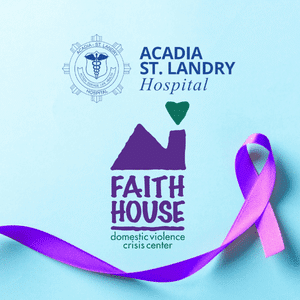 Acadia St. Landry Hospital is taking a stand against domestic violence this October in observance of Domestic Violence Awareness Month. As an integral part of both the Acadia and St. Landry community, we recognize the need for raising awareness about domestic violence and providing support for survivors.
In Louisiana, domestic violence remains a pressing concern. According to recent statistics:
 In 2019, Louisiana recorded over 24,000 reported incidents of domestic violence, emphasizing the urgent need for sustained awareness and action.
Shockingly, a woman in Louisiana falls victim to fatal domestic violence approximately once every 2.5 weeks, underscoring the critical nature of this issue.
Acadia St. Landry Hospital is committed to combatting this crisis. We are not only dedicated to providing essential medical care to survivors of domestic violence, but we are also actively engaged in community initiatives and education campaigns to prevent further instances and support survivors on their path to healing.
During the month of October, Acadia St. Landry Hospital will be partnering with local organizations, community leaders, and Faith House, a domestic violence crisis center and shelter serving seven parishes throughout Central and South Louisiana. These parishes include Lafayette, Vermilion, Acadia, St. Landry, Evangeline, Rapides, and Avoyelles.
We wholeheartedly encourage our community to join us in this collective effort. By working together, we can create an environment that empowers survivors and strives for a future free from violence.
To support Faith House's vital work, we invite the community to make donations. Faith House plays a crucial role in providing safe shelter, comprehensive support, and advocacy for survivors of domestic violence. Your contribution can make a significant difference in the lives of those who need it most.
To make a donation or learn more about Faith House, please visit faithhouseacadiana.com
For more information about domestic violence resources and support, please contact 337-232-8954 or visit thehotline.org
Acadia St. Landry Hospital encourages everyone in the community to join in the effort to end domestic violence. By standing together, we can create a safer, more supportive environment for survivors and work towards a future free from violence.