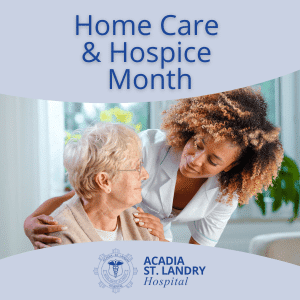 November marks a special time of reflection and gratitude as we observe National Homecare and Hospice Month. It is a moment to celebrate the impact that hospice and home care services have on the lives of individuals and families facing life-limiting illnesses. At Acadia St. Landry Hospital, we take pride in our collaboration with dedicated hospice and home care partners, collectively providing compassionate, comprehensive care to those in need.
At Acadia St. Landry Hospital, our commitment to hospice and home care extends beyond medical treatment. We believe in addressing the holistic well-being of our patients, focusing on their physical, emotional, and spiritual needs. Our partnership with local hospice and home care organizations enhances our ability to provide a level of care that addresses not only symptom management but also the support needed during this sensitive phase of life.
Our collaboration with hospice and home care partners has increased our ability to offer the highest quality care possible. These partnerships enable us to provide seamless care, ensuring that patients receive the best possible support, whether within the comforting walls of our hospital or in the familiarity of their own homes.
Home care services hold a special place in our plan of care, as they allow patients to experience their final moments in cherished surroundings. Through our home care partners, we extend our reach into the community, bringing the same level of compassionate care that defines Acadia St. Landry Hospital. This unique approach offers a sense of peace and security, ensuring that individuals and their families can focus on the moments that truly matter.
Empowerment lies at the core of our approach to end-of-life care. Our partnerships with hospice and home care providers enhance our ability to offer resources, information, and emotional support to patients and their families. Together, we navigate the complexities of this journey, ensuring that decisions are made with clarity, compassion, and respect for individual preferences. Through open communication and collaborative decision-making, we empower families to take an active role in their loved one's care.
National Homecare and Hospice Month provides an opportunity to honor the contributions of our partners in hospice and home care. Together, we form a network dedicated to upholding the dignity and comfort of every individual, especially during their most vulnerable moments. Through shared educational initiatives, community outreach, and special events, we aim to raise awareness about the essential role that hospice and home care play in our community.
As we commemorate National Homecare and Hospice Month, we extend gratitude to our hospice and home care partners. Together, we stand united in our mission to provide support and comfort to those in need. The collaborative efforts of Acadia St. Landry Hospital and our partners ensure that every individual's journey is marked with dignity, respect, and love. With heartfelt appreciation, we look forward to continuing this vital mission for years to come.